Never had a school shooting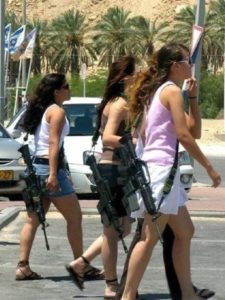 School girls going to their military training class!!! Notice the flag in the background… this is Israel 2018….
Where teachers and other citizenry Carry AR-15's.
Where it is mandatory that young people serve in the military and they are armed 24/7.
Where they do not over medicate.
Where the murder rate for the whole country is a fraction of what Nashville Tennessee is.
Where parents teach respect and values instead of letting Disney and X-Box raise their children.
Where they stand for their flag and would defend it with their lives!!
WE DON'T HAVE A GUN PROBLEM. WE HAVE A SOCIETY PROBLEM!